To succeed in Bitcoin investment, you must weather the inevitable storms of volatility. The complete Bitcoin price graph is a dizzying moonshot, but new Bitcoin investors are often shocked by bear market phases they fail to psychologically or financially prepare for.

We can't predict how long future downturns will last, but we can learn from the past experiences of successful Bitcoin investors. In this post, we'll review the periods where investors waited for all-time highs (ATHs) to return while others succumbed to pressure to sell their coins.
Our timeline begins January 1, 2012 with a Bitcoin price of around $5.00.
Period 1: January 8 to July 11, 2012 (185 days or 6 months): After an ATH of $7.08 on Jan 8, BTC loses 40% to bottom at $4.22, and returns to $7.12 mid-July and then continues to climb.

Period 2: August 17 to December 6, 2012 (111 days or 3½ months): The price hits an ATH of $13.35, loses 37% to bottom at $8.40 and resumes early December.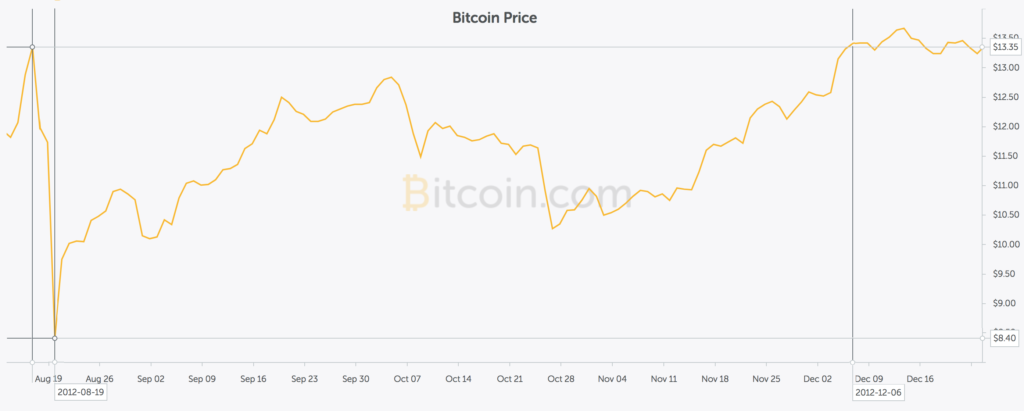 Period 3: April 10 to October 23, 2013 (196 days or 6½ months): The price hits an ATH of $198.60, loses a whopping 66% to bottom at $67.11, and resumes 6 months later in late October.

Period 4: November 30, 2013 to February 21, 2017 (1179 days or 3 years): Bitcoin's most famous bear market. The price hits an ATH of $1,101.59 in part due to manipulated bot trading on the Mt Gox exchange, crashes after a massive exchange hack to $191.36 — losing 83% of its value in the process — and takes several years to crawl painfully back to its previous high in early 2017.

Period 5: June 11 to August 5, 2017 (55 days or 2 months): After a big run-up during 2017, the price hits an ATH of nearly $3,000, drops 36% to $1,911.58, and then reclaims the ATH in early August.

Important Observations:
Excluding the 3 year bear market, these periods lasted an average of 4½ months.
In spite the 219+ Bitcoin obituaries, the price has continued to massively increase over time.
Each time the price bottomed out, the bottom fell above (or very close to) the previous period's all-time-high.
The best time to stack Bitcoin was yesterday. The next best time is during a price retracement and consolidation after a run-up.
Bear markets can last years; successful investors avoid buying more BTC than they can afford to HODL but accumulate more BTC during these bear markets with their income, rather than panic selling.
Most of the value lost after retracements from ATHs occurs in the first few weeks.